Welcome
At the Moggie Motel we have always endeavoured to ensure that your cat will be as well cared for when it boards with us as it is at home.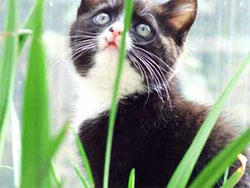 This ethos comes directly from Audrey Furlong, who runs the Moggie Motel. Not only is she a cat lover herself (and the proud owner of 3 cats) but she has also dedicated much time to furthering her knowledge of pet health, welfare, nutrition and behaviour. She has worked for a local small animal veterinary practice for many years, is qualified with an advanced diploma from COAPE (Centre of Applied Pet Ethology) and is an affiliate member of the CAPBT (Coape Association of Pet Behaviourists and Trainers). Her training allows her to assess a cat when it arrives and gauge the requirements of each individual in order to reduce stress and promote a sense of well being in the cat during its stay here.
Set in a rural location, the Moggie Motel provides a peaceful place for a stay, but with plenty happening to keep your cat interested and occupied.
We are open at the times below, or by appointment:
Mon - Sat

9am - 10:30am & 4pm - 7pm

Sun & Bank Hols

9am - 10.30am & 6pm - 6.15pm